Alex Henshaw
Alexander Adolphus Dumfries Henshaw was born on 7th November 1913, the son of a well-to-do Lincolnshire businessman. As a young boy he was presented with the Royal Humane Society Award for rescuing a youth from the River Witham.
Henshaw showed an early affinity for engineering, and arrangements were made for an apprenticeship with Rolls Royce. However, before starting this, he worked for a time as a salesman for one of his father's businesses, and he proved so successful at this that he never returned to the apprenticeship.
While still a young teenager, Henshaw learned to fly in a Gypsy Moth, and soon afterwards with his father's assistance, acquired a Moth of his own, G-AALN. This was followed by a Comper Swift G-ACGL. Only two days after this was delivered, Henshaw at the age of 19 won the Siddely Trophy at the 1933 Kings Cup, thereby starting his racing career in earnest on a highly auspicious note.
In 1937 Henshaw acquired a Percival P6 Mew Gull, formerly ZS-AHM The Golden City, in which Major Allister Miller had entered the 1936 Schlesinger Race from Southampton to Johannesburg. Sadly, Major Miller did not complete the race, having been forced to withdraw in Belgrade. The aircraft was subsequently re-registered as G-AEXF, the number that she still carries today.
Alex Henshaw's racing career reached its zenith in 1938, when he won the King's Cup with a fastest time of 236.25 mph. The following year he concentrated his efforts on an attempt to beat the existing records for the point-to-point London to Cape Town flight.
The statistics for the flight which are quoted below were taken from Mr Henshaw's book, "The Flight of the Mew Gull".
LONDON TO CAPE TOWN:

Total elapsed time:

39hrs 23 mins.

Time Airborne:

30.28 hours.

Distance:

6377 miles.

Average speed:

209.44 mph.
This was the fastest time for any aircraft or crew from England to Cape Town. It reduced the existing solo record by 39 hours and 3 minutes.
CAPE TOWN TO LONDON

Total elapsed time:

39hrs 36 mins.

Time Airborne:

30.51 hours.

Distance:

6377 miles.

Average speed:

206.40 mph.
| | |
| --- | --- |
| Alex Henshaw with Sir Winston Churchill after a Spitfire demonstration (From Sigh for a Merlin) | Alex Henshaw meeting King Haakon of Norway at Castle Bromwich (From Sigh for a Merlin) |
This was in 1939 the fastest time for any aircraft or crew from Cape Town to England. It reduced the existing solo record by 66 hours and 42 mins. Not only were all Cape Town-and-return records broken but also for every stage en route and remain so in the solo classification to this day. The England-Cape Town-England (12,754 miles) is still in 1999 an all-time record.
Henshaw's book The Flight of the Mew Gull provides a wonderfully readable account of this epic achievement.
On 17th February 1940 Alex Henshaw married Barbara, Countess de Chateaubrun. He himself has written of this marriage, which endured for 56 years until Barbara's death in 1996, that it was one of the three great influences in his life - the other two being his involvement with the Spitfire and the Mew Gull.
After the outbreak of war, Henshaw was appointed Chief Test pilot at Castle Bromwich, the largest factory producing Spitfires and Lancaster bombers. As a result of this work, his name has become even more familiar in connection with the Spitfire than the Mew Gull. It was at this time that he met Jeffrey Quill, the Supermarine test pilot with whom he was to develop a close and lifelong friendship. Quill has described Alex Henshaw as "the last of the great amateurs" - an appellation with which Henshaw himself is clearly delighted.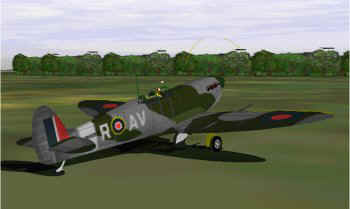 This illustration shows Mike Hill's Mk Vb Microsoft
Flight Simulator 98 model preparing to take off from a grass strip.
The years at Castle Bromwich are chronicled in Henshaw's first book, Sigh For A Merlin, described by RAF News as "one of the best Spitfire books".
After World War II, Henshaw worked for two years in Johannesburg as a Director of Miles Aircraft SA Ltd, which was affiliated with the General Mining and Finance Corporation. At this time he became friends with Wing Commander Ian Hay, with whom he maintained close contact. Wing Commander Hay now lives in Durban, South Africa.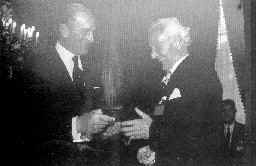 Alex Henshaw receiving the Jeffrey Quill Award from HRH Prince Philip, 1997 (From The Flight of the Mew Gull)
Henshaw returned to Britain from South Africa, and subsequently became involved in a range of family businesses. In 1953, when he was living at Sandilands, he was cited for heroism for his part in the rescue of many members of his community when tide and storm surge conditions resulted in massive flooding of the Eastern seaboard of Britain.
Alex Henshaw retired and moved to Newmarket, while his son Alex runs the family businesses. He was a recent past President of the Spitfire Society, and in 1997 was presented by HRH Prince Philip with the inaugural Jeffrey Quill Award for his services to Aviation. In 1998 he travelled to Australia to present the Spitfire Memorial Defence Fellowship. Alex Henshaw died at home in Newmarket on 24 February 2007.