Bert Acosta
Born 1895. Died 1954.
author: Bert Cisneros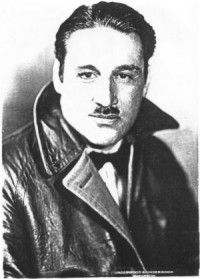 Bertrand (Bert) Blanchard Acosta was born in San Diego, CA, on January 1,1895. In his resume to the Navy he wrote he had been "learning to fly in 1910 - Personal research constructing experimental and research work in heavier-than-air aircraft". In other words, he built his own plane and at the age of 15 years flew it. From that time on, flying was in his blood. He became Aviation's most gifted natural pilot ever to come down the road. Elinor Smith, the record setting Aviatrix, who knew Bert said, "Bert didn't fly an airplane, he wore it." Such was his reputation as a pilot.

He was a multi-task aviator; flew all of the light planes in the 1910's and 1920's - up to the first heavy Transport Planes; laid the first Air Mail routes while carrying Air Mail; was considered to be the first true light aircraft Test Pilot as well as the first heavy Air Transport Test Pilot (as acknowledged by his peers); an aircraft mechanic; a record setter; a barnstormer; an Aeronautical Engineer; a Flight Trainer; an inventor; and a military and passenger aircraft demonstrator.

He was also the Chief Pilot on Cmdr. Byrd's 1927 "America's" Transatlantic Flight.

It was a weight record of a first time lift off and was what set Bert apart. Only his many years of experience flying heavy Transport Aircraft, coupled with his extraordinary ability, was he able to guide the heavy tri-motor on that too short and too muddy runway until they were air borne. It was the heaviest load (7-1/2 tons or15,000 lbs) of plane, cargo and crew any pilot had ever lifted and part of that load was a piece of Betsy Ross' flag and 150 pounds of mail; and was the first Transatlantic Transport Flight to deliver Air Mail to Europe.

Other mail services:

1918 – After the Armistice, he was instructed to survey and map the nation's first

Airmail routes. He flew in and out of 60 American towns and villages. His routes were implemented and Airmail was instituted in this country. The Air Corp pilots took over and delivered the mail after that. Acosta said, "Establishing Airmail routes was my most outstanding accomplishment (at the time)."

1920 – 7/29 – With Captain Eddie Rickenbacker, he laid the first Airmail routes from

NY to San Francisco. In September of that year regular mail flights began.

1920 – 8/28 – With S.C. Eaton, Bert flew from New York to Oakland, CA. They

delivered the first Transcontinental Airmail (100 letters delivered) in the record time of 36 hours and 40 minutes. The first scheduled Transcontinental Airmail Flight didn't occur until the following September.

1921 – 1-23 – First Transcontinental Air Mail Flight – Started San Francisco - arrived Hazelhurst Field, New York – 2,629 miles – 33 hours 20 minutes avg. 104 mph.

Admiral Richard E. Byrd wrote in a letter to Cmdr. G. O. Noville, Radio Operator on the 1927 Transatlantic flight: "I had for him much affection as a friend, and great admiration for him as one of the great fliers of all time. On the Transatlantic Flight of 1927 he demonstrated his greatness in connection with the most remarkable take-off in history, and at the controls of the plane as we fought through three storms over the Atlantic."

Bert's life was full and interesting, if not tragic, replete with good times and bad times. After his best years of flying were over and his alcoholism could not be controlled, in a sanatorium in Spivak, CO, on September the 1st, 1954, at 1:15 p.m., cancer did what his restless heart never could, it took him home to a well earned and everlasting rest.