Cal Rodgers
the First U. S. Transcontinental Flight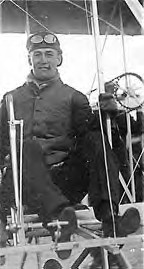 A confident-looking Cal Rodgers before his take off from Sheepshead Bay. He was a steady cigar-smoker, even when he flew.
Calbraith Perry ("Cal") Rodgers, an inexperienced 32-year-old pilot, in 1911 made the first transcontinental flight across the United States. He reached Pasadena, California, on November 5, 1911, and Long Beach, California, on December 10, flying between Sheepshead Bay, near New York City, New York, and the West Coast in a Wright EX biplane. He carried the first transcontinental mail pouch and was accompanied on the ground by a support crew that repaired and rebuilt the plane after its numerous rough landings and crashes.
Rodgers was the grandson of the famed Commodore Oliver Perry of the Battle of Lake Erie in the War of 1812. He was an excellent football player, yachtsman, and automobile and motorcycle racer before becoming a pilot, all in spite of deafness that resulted from a childhood bout of scarlet fever. Somewhat of a risk-taker, Rogers had taken only about 90 minutes of flying instruction from Orville Wright in June 1911, at the Wright School in Dayton, Ohio, before attempting a solo flight. He carried out the first aerial photography of industrial plants and in August 1911, won an $11,000 prize in an international air endurance contest held in Chicago. He also was the first private citizen to purchase a Wright "aeroplane," a long-wing biplane Model B that was modified for his transcontinental flight and designated a Wright Flyer EX (for Experimental).
The $50,000 prize that renowned publisher William Randolph Hearst offered to the first pilot to fly across the United States within 30 days undoubtedly helped motivate Rodgers to tackle this formidable challenge. Air flight was new to the nation. There were no airports or aircraft mechanics along the way and no air navigation maps, control towers or beacons to warn of hazards or guide the pilot. Rodgers would have to follow railroad tracks, recognize landmarks, and talk with his ground crew during periods on the ground. Also, the venture would be expensive, and Rodgers needed a sponsor.
J. Ogden Armour, a Chicago meat packer, was willing to sponsor Rodgers in return for advertising his new grape soft drink "Vin Fiz." Rodgers printed Vin Fiz on the rudder and under-wing areas of the plane, and Armour paid him three to five dollars for each mile flown, providing a total of $23,000. Armour also provided and outfitted a three-car support train, which would prove vital to Rodgers' success. This train was loaded with a crew, including his wife, his mother, a close friend, two mechanics, and two assistants as well as supplies, fuel, repair parts to rebuild the plane, and even spare engines. One car had a much-needed repair shop, and the crew had the capability to rebuild the aircraft at least twice if necessary. All cars advertised the sponsor's product--Vin Fiz.

Cal Rodgers had secured the backing of the Armour Corporation, which was promoting its new grape soda, "Vin Fiz."

The Wright brothers' biplane that Rodgers flew was made with relatively light materials: a spruce airframe that was covered with canvas and linen and a small 35-horsepower (26-kilowatt) engine. The plane had two eight-foot (2.4-meter) push-propellers driven by a chain-drive transmission and could fly at 45 to 60 miles per hour (72 to 97 kilometers per hour). The Vin Fiz had no instruments, other than the reported use of a shoelace to indicate vertical and lateral motion, no heater, and no navigational aids. But with what proved to be considerable foresight, Rodgers had crutches strapped to a wing.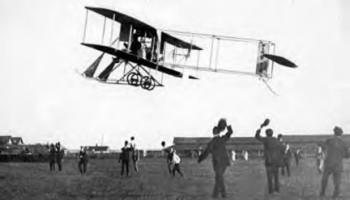 Cal Rodgers took off from Sheepshead Bay Speedway in New York on September 17, 1911, in an attempt to cross the United States by air.

Rogers took off from Sheepshead Bay, New York, at 4:30 p.m. on September 17, 1911. He followed railroad tracks and avoided mountains, storms, and other hazards. Along the way, he landed around 70 times, which included at least 16 crashes some that put him in the hospital. Damage to the Vin Fiz was so extensive that the plane had to be rebuilt at least twice. Only a very few pieces of the original Vin Fiz made it all the way a vertical rudder, a couple of wing struts, and possibly the original engine oil pan.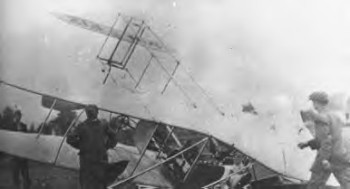 Cal Rodgers suffered numerous crash, engine malfunctions, and other mishaps on his transcontinental journey in 1911.

Another of Rodgersï many crashes.

Forty-nine days later, on November 5, Rodgers landed in Pasadena, California, He had missed Hearst's deadline by 19 days. So that he could say he had reached the Pacific Ocean, he took off again on November 12, to cover the remaining 20 miles (32 kilometres) to the ocean, only to be forced down twice, once suffering a broken ankle. But on December 10, 1911, he flew on to the beach at Long Beach, California, and taxied the Vin Fiz into the Pacific Ocean. The entire trip of approximately 4,000 miles (6,437 kilometres) (authorities differ on the exact number of miles) had taken 84 days, although only about 82 hours were spent aloft!

Cal Rodgers wets the wheels of the Vin Fiz in the surf at Long Beach, California, after flying more than 4,000 miles in 84 days.

Rodgers' determination and thorough preparation for the flight enabled him to be the first to make his way across the country by air, even though he missed the time deadline for the $50,000.00 prize.

The public recognized his triumph over life-threatening challenges. The number of onlookers grew from a handful of people wishing him well at his initial takeoff, to newspaper reporters and crowds cheering him on as he crossed the continent, all the way to national celebrity status, with some 20,000 witnessing his November 5 landing in Pasadena.



The final crash of the Vin Fiz into the Pacific Ocean.

But as was the case with so many early pilots, tragedy struck. Almost five months later, on April 3, 1912, while making a test flight in Long Beach, near the site of the end of his record-setting flight, he flew into a flock of birds--a problem still facing aviators today. One bird, probably a seagull, was believed to have stuck in his plane's controls, causing the plane to crash into the surf. When pulled from the wreckage, Cal Rodgers was dead of a broken neck.