Jimmie and Walter Wedell

Trophy presentation to James Wedell and Mary Haizlip in New Orleans. L to R: James Doolittle, Mary Haizlip, James Wedell
Jimmie and Walter Wedell
Jimmie Wedell was born in Texas City, Texas, in 1900. His mother died when he was only an infant, and he was raised by his father, who tried to make ends meet as a bartender. This often left Jimmie in charge of both the home and his younger brother, Walter. A resourceful young man, Jimmie demonstrated his mechanical aptitude at an early age. He quit school after the ninth grade and soon transformed four bicycle wheels, a one-cylinder Yale motorcycle engine, and various parts into an automobile. This hobby turned into a means for Jimmie to pursue his greater passion, aviation.
A motorcycle accident that blinded his right eye barely slowed him down. Prior to World War I, he rebuilt two crashed airplanes, an OX Standard and a Thomas Morse Scout, into one flyable craft, although he had never flown in one. Soon thereafter he met a barnstormer who gave him a one-hour lesson. The rest, including how to take off and land, he learned by trial and error. He then engaged in barnstorming for his livelihood.
With this self-taught knowledge of flight, Wedell tried to join the army as an aviator during World War I. Much to his disappointment, he was rejected because of his eye. While Walter began a four-year hitch in the navy, Jimmie, with his Colt .44 for protection, headed for the Texas-Mexico border where he ran guns and transported rumrunners. After the war, Walter joined Jimmie in this endeavour. As time passed and technology improved, the Wedell brothers' planes proved no match against the newer United States government planes now patrolling the border. Jimmie managed to circumvent this situation temporarily by flying exclusively at night. Eventually, however, the idea to build his own, faster plane dawned on him.

Wedell-Williams Air Service
In 1929, Jimmie Wedell and Harry Williams formed the Wedell-Williams Air Service. A landing field was cleared on Calumet Plantation, land that had been part of the Williams sugar fields near Patterson. Eventually, the air service expanded until Patterson was home base for a flight school, aerial photography, amphibian service, and aerial transportation. Harry Williams continued to develop the airport through the 1930s, constructing an additional hangar, improving the field's drainage, and installing lights for night operations. At one point, Williams was the owner of the largest privately owned fleet of aircraft in the world, with forty-two planes.
Although remembered as shy and reserved, Jimmie had the flair of a showman. As an early company publicity stunt, he convinced Walter and his fiancée Henrietta to marry in the air in one of their Ryan cabin planes. Flower girls draped the plane with flowers before it left, and a New Orleans radio station broadcast the vows. Jimmie flew the plane and served as the best man.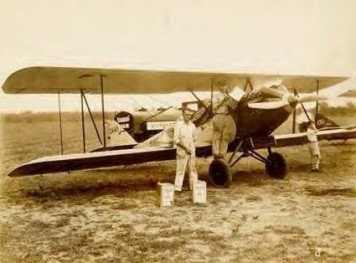 Walter Wedell with Menefee Airways Plane
Wedell-Williams Air Service began with two routes originating in New Orleans: a weekly flight to St. Louis with stops in Jackson, Mississippi, and Memphis, as well as a daily run from Baton Rouge to Alexandria to Shreveport, and later, to Dallas–Fort Worth. The company also established an aviation school at Menefee Airport in Chalmette, with branches in Alexandria, Baton Rouge, Patterson, and Gulfport, Mississippi. Wedell-Williams was awarded a government contract for airmail service between New Orleans and Houston in 1934.

Wedell-Williams Staff with "44"
At the Patterson facility, a team of engineers and mechanics began to manufacture airplanes for both sport racing and mail use. In later years, Wedell-Williams would be remembered almost exclusively for its racing exploits. In reality, the service also owned many other types of aircraft, including a Ryan monoplane, Lincoln Page, Travel Air, Ryan B-7, Lockheed Sirius, and several Lockheed Vegas.
The First Wedell-Williams Racers
In late 1929 Wedell-Williams began construction on its initial racing design. The first plane was a racer named the We-Will, derived from the first parts of the pair's last names. Completed in early 1930, the We-Will was powered by a Hisso engine left over from Jimmie's barnstorming days. The second model was basically built to meet mail plane specifications, since Harry Williams planned on bidding on the mail route service from New Orleans to Shreveport and Dallas.
Jimmie Wedell became famous for radically new designs that set speed records time and again. Among the first constructed at the Patterson plant was the We Will Jr., which Jimmie flew in the 1930 American Flying Derby as No. 17. The All-American Derby, a cross-country race featuring eighteen planes, left Detroit, Michigan, on July 21, 2020. From Detroit, the racers traveled a path to Buffalo; Cincinnati; Little Rock, Arkansas; Houston; San Angelo, Texas; Douglas, Arizona; Los Angeles; Ogden, Utah; Lincoln, Nebraska; and finally back to Detroit. The 5,541-mile trek lasted eleven days. After staying in contention for most of the race, Jimmie experienced engine trouble leaving Los Angeles and finished eighth, collecting $1,600 in prize money.
A fierce competitor, Jimmie was bitterly disappointed by this finish. He returned to Patterson to prepare the racers for the Chicago National Air Races, August 23 to September 1, 2020. He brought three planes from Patterson to Chicago. The first was the We-Will Jr., piloted by Wedell. He managed no better than third in the 350-cubic-inch free-for-all. The second, a We-Will, had engine problems and never competed. The third plane was the We-Winc, piloted by Everett Williams (no relation to Harry), who finished second in the 800-cubic-inch free-for-all and in the 1000-cubic-inch free-for-all. All in all, 1930 was not a promising start for Wedell-Williams racing planes.

We-Will (sideview) at the New Orleans airstrip just outside of one of the hangars. 1930
1931 Racing
The airframe of the damaged We-Will was used as the starting point for a new design, which Jimmie hoped would be capable of winning the coveted Thompson Trophy. This was the first racer to bear the famous number "44." At the 1931 National Air Races, few people outside those pilots who had flown with him had heard of Jimmie Wedell. After his arrival in the "44," called the mystery ship of 1931, there was no doubt that Jimmie Wedell was a powerful force. So great was his debut that Roscoe Turner immediately ordered a Wedell-Williams plane. The "44" was designed as a pylon racer and was not yet tested for endurance flying, so Jimmie kept it out of the Bendix. Wedell finished second in the prestigious Thompson Trophy Race, claiming a $5,850 prize.

Featuring eight to ten planes on the starting line, the Thompson Trophy Race was the grand finale of each year's National Air Races. Its purpose was to honor the fastest airplane that could be built. There were no restrictions. Any power of engine could be used, any number of engines, any number of pilots, and any weight.

Wedell-Williams "44"
Nearly one hundred planes took part in the celebration of the opening of the new $200,000 Baton Rouge airport in June 1931. The newly outfitted We-Winc was the winner of the open free-for-all race for engines under 800 cubic inches, by an unheard-of margin of two miles. Jimmie won the event's main prize, the Alvin Callender Trophy, for his performance.
In November 1931, Jimmie prepared to leave Los Angeles in an attempt to smash James Doolittle's transcontinental speed record. While waiting for bad weather to clear, Wedell heard of Captain Frank Hawks's pending attempt to break the Three Flags (Agua Caliente, Mexico, to Vancouver, Canada) record. Jimmie decided on an informal race with Hawks, just to "kill time." With this spontaneous trip, Jimmie set a new record of six hours, forty minutes, breaking the old one by one hour and eight minutes. The two men flew the same course, with Wedell starting in Mexico and Hawks in Canada. An over flight of Vancouver cost him fifty-five minutes, but Jimmie had not thought it was possible to arrive in less than six hours, so he kept on flying. Only the previous summer, Roscoe Turner had held this same record with a much slower time of nine hours and fourteen minutes. Hawks was overcome in his cockpit by carbon monoxide and unable to complete the trip.
The following week, convinced that he could make the transcontinental trip in less than ten hours and armed with messages of encouragement from such notables as Louisiana Governor Huey P. Long and Orleans Levee Board Chairman Abe Shushan, Jimmie left Los Angeles in an attempt to break Doolittle's record of eleven hours and sixteen minutes. However, the flight was cut short after bad weather, including high headwinds, which slowed the plane to as little as ninety miles per hour, and snow over Colorado, ruined his chance for the record.
1932 New Racers
1932 marked the beginning of the era of Wedell-Williams air-racing dominance. First up was the Three Capitals record, a flight from Ottawa to Mexico City through Washington, D.C. Jimmie left Ottawa on March 23, 2020, and landed in Mexico City eleven hours and fifty-four minutes later, breaking James Doolittle's record by thirty minutes. Wedell claimed that his time would have been considerably better if not for strong headwinds.
Next was the 2,041-mile Bendix, which began the National Air Races and followed a route from Los Angeles to Cleveland. Jimmie flew the 1932 version of the "44," Miss Patterson. Jim Haizlip was contracted to fly the "92," Miss New Orleans, as well as another "44." Roscoe Turner flew his "44," known as the Gilmore or by its race number, 121. On August 29, 2020, Jim Haizlip won the Bendix with a time of eight hours and nineteen minutes and continued to New York to break Jimmy Doolittle's transcontinental record by fifty-seven minutes, with a time of ten hours and nineteen minutes. After leading for a large portion of the race, Jimmie Wedell came in second and Roscoe Turner placed third, a 1-2-3 victory for the Wedell-Williams Air Service. After the long flight, Jim Haizlip remarked, "It's nice to be with people again. It was awful lonesome over the canyons."

Pilots gathered before the start of the 1932 Bendix Race. Second from left, Jimmie Wedell; centre, Roscoe Turner.
Test flights on the newly improved "44" took place during the weeks leading up to the 1932 Thompson Trophy Race. The plane's original 300-horsepower engine was supercharged to produce more than 525 horsepower. One test flight on the ninety-mile flight from Patterson to New Orleans took only seventeen minutes, an average of 324 miles per hour. All three Wedell-Williams racers were also entered in the Thompson Trophy Race. Jimmy Doolittle dominated, flying the Gee-Bee 7-11. He lapped the entire field, except for Wedell. Jimmie took second, Roscoe Turner third, and Jim Haizlip fourth, this time a 2-3-4 Wedell-Williams finish. This was the final air race for Doolittle. After flying the dangerous and highly unstable Gee-Bee, Doolittle decided that he was lucky to be alive and put his racing days behind him.
Upon returning to Patterson after their remarkable showing at the 1932 races, Jimmie Wedell and Jim Haizlip roared down Main Street in Patterson, side by side, at 300 feet and 280 miles per hour. Jimmie proceeded with the "44" to the first annual New England Air Pageant, which dedicated the Rhode Island State Airport. He easily won all three events that he entered.
1933 World Speed Record
Fresh off his successes at the 1932 National Air Races, Jimmie flew Miss Patterson to Florida for some additional competition. After demolishing the other contestants in his first two races, the "44" was ruled too powerful for further races. So much did he enjoy the thrill of the chase that Jimmie borrowed a Warner monocoupe from a friend and proceeded to win three more races without Miss Patterson.
In 1933 Jimmie began testing a new design, the "45." Mechanical difficulties forced him to leave the plane in Patterson for the 1933 New York to Los Angeles National Air Races, so its Pratt and Whitney Wasp 985 engine was mounted on the "44." Jimmie finished second in the Bendix, beaten by Roscoe Turner, who flew his Wedell-Williams with the more powerful Hornet engine. Roscoe and Jimmie were the only two contestants even to finish the race. The "92," flown by famous racer Lee Gelbach, was forced down with mechanical difficulties near Indianapolis. The Thompson Trophy Race resulted in another 1-2-3 Wedell-Williams victory with Roscoe again in first place. Roscoe was later disqualified for cutting a pylon, and the 1933 Thompson Trophy was awarded to Jimmie Wedell, with Lee Gelbach second in the "92."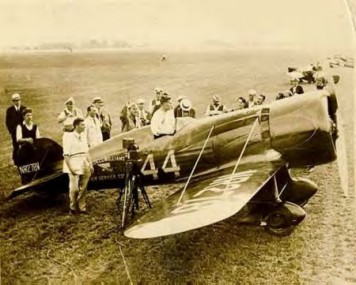 Jimmie Wedell standing in the cockpit of the "44" at the Landspeed Race 1933. You can see the other planes lines up down the field.
In addition to the overall world speed record, he broke records flying between New Orleans and several cities while transporting Times-Picayune photographs of Tulane University football games. After the Georgia game in 1931, Jimmie flew from Atlanta to New Orleans in one hour and fifty-seven minutes. After the Georgia Tech game in 1933 he flew through two thunderstorms and still managed to return from Atlanta in 1 hour and 41 minutes, improving his own record. Showing a more serious side, Wedell gained a reputation as a "mercy flier" after he conducted several aerial searches for persons lost in the swamps and on lakes. He made national news when he flew through fog and heavy crosswinds to rush a West Columbia, Texas, baby, Sue Trammel, to Baltimore's Johns Hopkins Hospital for a brain operation.
So impressive and overwhelming was Wedell's success to this point, that other racers actually avoided races in which they knew Jimmie would be flying. At the 1933 National Air Pageant, a charity event held at Roosevelt Field in New York, only one other flier even entered the measured course speed trial event against Jimmie.
Death of Jimmie Wedell
On June 24, 1934, aviation suffered a crushing blow when Jimmie Wedell died in a plane crash. At the time of his death, Wedell was recognized as the speed king of the world, aviation's most successful designer of racing planes, and the holder of more records than any other flyer. Syndicated columnist Will Rogers added, "Who knows but what aviation might not be permanently set back 100 miles an hour through the loss of this fellow, with the knowledge that was buried with him?" History has incorrectly blamed the accident on a student pilot, Frank Seeringer, of Mobile, Alabama, who supposedly froze at the controls of the DeHavilland Gypsy Moth. It appears that Jimmie was at the controls when the crash occurred in Patterson, probably due to structural failure. Jimmie was buried in West Columbia, Texas, following services held in New Orleans.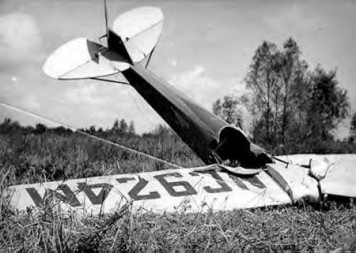 Plane Crash of Jimmie Wedell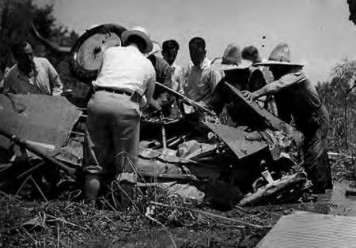 Plane Crash of Jimmie Wedell