Jean Batten
Jean Gardner Batten, a strikingly beautiful New Zealand woman, became one of the world's most popular and famous pilots when she established several individual flight distance records in the 1930s. Some of her marks would stand for almost half a century, while others she would better on her own. Batten was extremely close to her mother and thrived on parental attention. She also liked the international acclaim she received. Regardless of her public image, however, Batten possessed some dark qualities. Sometimes she used her feminine charms to manipulate men into providing her with the means to achieve her record-setting goals. She was also very eccentric and reclusive, which when coupled with her glamour and fame, was why Ian Mackersey, Batten's leading biographer, dubbed Batten "The Garbo of the Skies."
Batten was born in Rotorua, New Zealand, on September 15, 1909, to a modest dentist's family. From her earliest days, Jean seemed predestined to become a great aviator. In a seemingly serendipitous act, Batten's mother pinned a photo of the famous French pilot Louis Blériot on the wall next to Jean's crib.
Jean was an excellent student. She won several academic prizes and was a gifted pianist. During her teenage years, she developed into an extremely attractive woman, but she often appeared quite aloof. As Mackersey noted, Jean was "a loner: a highly intelligent, solitary person whom few could warm to."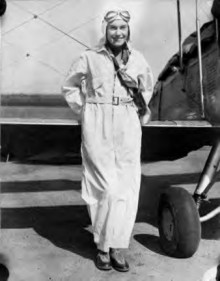 Jean and her mother Ellen had a close bond, partly brought about by living with her mother after her parents had separated. Her mother was an early feminist and influenced her daughter dramatically, passing along her extreme independence and strong-willed nature.
Batten became particularly interested in flight when Charles Lindbergh crossed the Atlantic in 1927. She was also inspired by Charles Kingsford-Smith's transpacific flight the following year. By 1929, she was so anxious to fly that she convinced her mother to approach Kingsford-Smith and persuade him to take her up in his plane, the Southern Cross. Jean flew high above Sydney, Australia, with "Smithy," and from then on, there was no turning back. She was determined to become a top-notch pilot. Her mother, wanting to give her daughter the best opportunities, decided to move to London, one of the era's great aviation centres.
Jean earned her individual pilot's license in London in December 1930. Her immediate goal was to break the solo flight record from England to Australia that aviator Amy Johnson had established earlier that year. The only problem was that she needed a plane. Because she did not have enough money to buy her own aircraft, she decided to try to attract a corporate sponsor. But without a commercial pilot's license, her chances were slim. Furthermore, Jean did not have the $500 needed to secure a commercial certificate. Fortunately for her, a young New Zealand pilot named Fred Truman, the first of many suitors, gave her the money. It was his life savings. Batten remained romantically involved with Truman just long enough to get her license and then ended the relationship. She quickly became involved with another man, an Englishman named Victor Doree, who gave her the money to purchase her first plane, a bi-wing de Havilland Gipsy Moth.
Batten finally took off in pursuit of Amy Johnson's 20-day England-to-Australia flight record in April 1933. Unfortunately, a sandstorm caused her engine to fail and she crashed in Karachi, Pakistan. Although Jean escaped serious injury, the plane was a wreck. After returning to England, she asked Doree for another aircraft, and when he refused, she stopped seeing him. Fortunately for Batten, the Castrol Oil Company had taken notice of her and bought her another Gipsy Moth.
Batten's second attempt at Johnson's record began on April 21, 1934, but she ran into trouble very quickly. Batten miscalculated her fuel consumption and damaged her plane among a series of radio towers while making an emergency landing outside of Rome. While Batten escaped the flight unscathed, the plane required too many repairs to continue, and she returned to England. There, she repaired her plane by using the bottom wing from an aircraft owned by her latest suitor, Edward Walter, a London stockbroker who would become her fiancé.
On May 8, 1934, Batten was ready to try again. This time she succeeded. After flying more than some 10,500 miles (16,898 kilometres), she bettered Johnson's record by more than six days. Batten reached Darwin, Australia, with an official time of 14 days, 22 hours, 30 minutes, and became an international hero. Soon after, she broke her engagement to Walter and went on to the next man, Beverly Shepard, an Australian airline pilot, a man who many believed she truly loved. Walter, furious with Jean, billed her for the wing she had used to repair her Moth.
Soon after bettering Johnson's mark, Batten bought a new aircraft, a Percival Gull monoplane, which, with its extra fuel tank, was perfectly suited for long-distance record attempts. On November 11, 1935, Batten took off in pursuit of another record, the best time from England to South America. After flying to Dakar, Senegal, Batten began the most dangerous part of her journey, a 1,900-mile (3,058-kilometer) leg over the treacherous South Atlantic to Port Natal, Brazil. Using only a watch and compass to guide her, Batten made the transatlantic trip in 13 hours, 15 minutes. The entire trip from England, a distance of approximately 5,000 miles (8,047 kilometres), had taken only 61 hours, 15 minutes, a new record. Batten had also become the first woman to pilot a plane across the South Atlantic.
A year later, she was back at it again. On October 5, 1936, Batten climbed into her Gull and set out to better the England-to-New Zealand record. She made it to Australia, the first major section of the trip, in six days and shattered her own record set two years earlier. Then, after waiting a few days for acceptable weather over the Tasman Sea, she left for New Zealand. Batten made it in 10 hours, 30 minutes. The total journey of 14,224 miles (22,891 kilometres) had taken 11 days, 45 minutes, and set a record that would stand for 44 years.
Soon after, Batten faced some personal hardships. During her hero's tour of New Zealand, she suffered a nervous breakdown and went into seclusion with her mother. After recuperating, she travelled to Sydney in February 1937 to reunite with her fiancé Shephard, but on the day she arrived, he died in a plane crash. With the only man she truly loved gone, Batten sunk into a deep depression. It took her mother almost eight months to coax Jean out of her despair and get her to fly again.
In October 1937, Jean set another record--her final one--by flying from Australia to England in five days, 18 hours, 15 minutes. As a result, Batten became the first person--man or woman--to simultaneously hold the solo flight records between England and Australia in both directions.
After establishing her final record, Jean and her mother travelled the world in relative seclusion. Although Jean resurfaced for a while during World War II, she and her mother returned to seclusion after the war. When her mother died in 1966, Jean was heartbroken. She lived in solitude for many years. Despite a celebrated return to public life in 1969, Batten eventually became a recluse again. On November 22, 1982, while living on the Spanish island of Majorca, Batten died of an infection caused by a dog bite; the wound had turned septic and spread to her lungs after she refused medical treatment. Because people on Majorca did not know who she was, Batten received a burial in an unmarked pauper's grave. The world would not learn of her death for several years, and then only after her publisher had launched an investigation as to her whereabouts.
Throughout her remarkable career, Batten received a number of prestigious awards. From 1935 to 1937, she held the Harmon International Trophy, a prize for the most outstanding flight in a given year. She also received the Brazilian Order of the Southern Cross and "The Freedom of the City of London," among other honours. To this day, many people still remember and greatly admire Batten. Fittingly, New Zealand's Auckland International Airport bears her name.