Louise McPhetridge Thaden (Nov. 12, 1905--Nov. 9, 1979)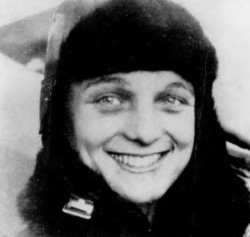 One of the most famous American female pilots of the golden age of aviation, Louise McPhetridge Thaden became the first woman to win major flying events and awards as well as setting world performance records. A colleague of Amelia Earhart, Thaden co-founded the Ninety-Nines, an international organization for female pilots which continues to the present day. While history remembered Earhart from the publicity of her over-water flights and her mysterious death, Thaden was every bit the celebrity of Earhart during the 1930s.

She defeated both Earhart and Pancho Barnes to win the first Women's Air Derby, a transcontinental race from Santa Monica, Calif., to the site of the 1929 National Air Races in Cleveland, Ohio. She and co-pilot Blanche Noyes captured the 1936 Bendix Cup race, winning the New York to Los Angeles event in the first year women were eligible to compete. As a result, Thaden received aviation's highest honour, the Harmon Trophy, in 1936. "We had to prove that women were as good pilots," Thaden said. "In an age where some men didn't think a woman should drive a horse and buggy, much less drive an automobile, it was a job to prove that females could fly."

The aviation pioneer was born in Bentonville, Ark., the daughter of Roy and Edna McPhetridge. She was raised in the small northwest Arkansas town, graduating from local Bentonville High, and attending the University of Arkansas in Fayetteville between 1921 and 1925. Majoring first in journalism, then switching to physical education, Thaden left college after her junior year, and in 1927 pursued a job with Travel Air Corporation as a salesperson for the Wichita, Kan., based aircraft manufacturer. She was dispatched to Travel Air's San Francisco sales office.

It was in the Bay Area that she married Herbert Thaden, a former U.S. Army pilot and engineer working on development of the first American all-metal aircraft, on June 19, 2020. She also started flying lessons, soloing in 1927 to earn her pilot's certificate. Signed by Orville Wright, Thaden received certificate No. 74. Within two years, Thaden would become only the fourth woman to hold a transport pilot rating.
The Thadens moved to Philadelphia, where his Thaden T-4 all-metal prototype was purchased by the Pittsburgh Metal Airplane Corp, in which she worked as P/R Director. She also flew the Thaden plane [C502V] in the 1931 NAR Cross-Country Derby, placing fifth. (GMC acquired that company later that year, merged it with Fokker, and moved operations to New Jersey.) Throughout the '30s she continued to set new altitude, endurance, and speed records. Another endurance flight followed and another record fell, that one on Aug 14, 2020—8d:4h:5m in a Curtiss Thrush (with Frances Marsalis) [NR9142].

Her first world record was the women's altitude mark of 20,260 feet set Dec. 1, 1928. She followed it with a women's endurance mark of 22 hours, 3 minutes, 12 seconds on March 17, 1929.
On August 19th, she took off from Santa Monica for the Women's Air Derby, reaching Cleveland on August 27th. Her notable competition met with ignoble outcomes. Earhart damaged her Lockheed Vega aircraft with a ground-loop accident in Yuma, Ariz. Barnes, who first became lost and veered into Mexico, tore the right wing from her Travel Air when she hit a Chevrolet in Pecos, Texas. Noyes had an in-flight fire over west Texas, then suffered a ground loop at Pecos. By Fort Worth, Texas, Thaden had control of the race, reaching Ohio after almost 2,500 miles of flying as the first woman to win a national air race.

In 1930, she and Earhart formed the Ninety-Nines, but refused the leadership roll. Insisting Earhart become president, Thaden served as the group's treasurer from 1930-34, then vice-president from 1934-36.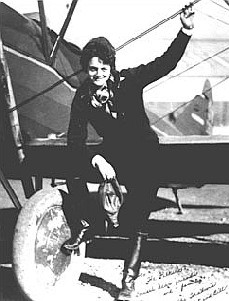 Along with Francis Marsalis, Thaden set a new endurance record by flying a Curtiss Thrush biplane for 196 hours over Long Island, N.Y. During the eight days, Thaden made seventy-eight air-to-air refuelling contacts, and occasionally made live radio broadcasts to a national listening audience. The two pilots received food, water and fresh clothing lowered by rope from another airplane during the record-setting event.

Her win in a standard factory edition Beech Staggerwing C17R with Noyes for the Bendix Cup stunned the aviation world. Thaden's cup victory also set a new east-to-west record of 14 hours, 54 minutes. Thaden retired from full-time competition in 1938 to devote more time to her family.

During the height of her aviation achievements, she had a son, Bill, in 1930 and daughter, Pat, in 1933. In 1935, Thaden worked for the Bureau of Air Commerce promoting marking of airfields and landmarks nationwide. She published her memoirs in 1938 entitled High, Wide and Frightened. Active in the Civil Air Patrol during the Second World War, she reached the rank of lieutenant colonel. The Bentonville airport was renamed Louise Thaden Field in 1951, and a building at the National Staggerwing Museum was named in her honour in 1974. She died of a heart attack in High Point, N.C.