Wiley Post
First to Fly Solo Around the World, Lost over Alaska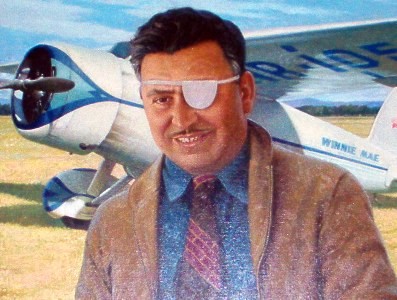 When Wiley Post and Will Rogers crashed at Point Barrow, Alaska on August 15, 1935, the world mourned the loss of the great flier and the beloved humorist.
Post twice set the record for flying around the world:
July, 1933 - 7 days, 19 hours - solo
Also a scientific innovator, Post developed a pressure suit that permitted him to fly the Winnie Mae into the stratosphere.
He was a natural flier. No less an authority than Eddie Rickenbacker declared that Post was "a man born with as sensitive a touch as any aviator could develop."
Youth
Wiley Post was born in Texas on November 22, 1898. Never much of a student, Wiley was interested in mechanical things. His family moved around a bit; when Wiley was 11, they settled in Garvin County, Oklahoma. He saw his first airplane at an air show in nearby Lawton County (coincidentally, the WW2 ace Robert S. Johnson, grew up in Lawton Co.). Post's first job was with the US Army. He switched to work in the oil fields in 1919, but whether times were tough, or Post was just wild, he stole a car in 1921. He was convicted and sentenced to ten years, but was paroled after one year. He lost his left eye in an oil field accident in the mid-1920's, and used the $1800 settlement to buy his first airplane. In 1925, he first met his fellow Oklahoman, Will Rogers; Rogers needed to get to a rodeo, and Post was pleased to fly the famous humorist there. He became the personal pilot of F.C. Hall, a wealthy Oklahoma oilman, and had use of Hall's personal plane, an open cockpit Travel-Air biplane.
Winnie Mae

Wiley Post with the Vega
Later Hall bought a Lockheed Vega, largely for Post's use, nicknamed Winnie Mae for the oilman's daughter. The Depression intervened, and Hall was sold the plane back to Lockheed. In 1930 Hall bought a later version of the Lockheed Vega, a model 5-C, again nicknamed Winnie Mae. This later aircraft is the one most often seen in photographs of Wiley Post.
(When I was a child, my Dad, a lifelong aviation buff, had a model of the Winnie Mae in the house. It's weird aerodymanic 'pants' over the wheels fascinated me, as did its blue-on-white color scheme, its large NR-105-W registration number on the wings, and the list of faraway cities on its world itinerary.) In 1930, the Lockheed Vega was the hottest airplane of its type. Specifications and performance data for the "Wasp" powered Lockheed Vega 5-C:
length 27'8", wing span 41', height 8'6", wing area 275 sq. ft,
empty weight 2361 lbs., useful load 1672, payload 1012, gross wt. 4033 lbs.,
max. speed 170 MPH, cruise 140 MPH, landing 54 MPH, ceiling 20,000 ft.,
gas capacity 96 gal., oil 10 gal., range 725 miles.
price at the factory, July 1928 - $18,500.
The Lockheed Vega was one of the most famous record-breaking airplanes of the early 1930s. The beautifully streamlined, high-wing, single-engine monoplane was designed by John Northrop and Gerrard Vultee, two aviation pioneers who later established their own aircraft companies. Although the Vega first flew in July, 1927, it was during the early 1930s that the plane established its reputation for rugged reliability and airworthiness. It was designed as a small transport aircraft, carrying six passengers and a crew of two. Lockheed built about 130 of them between 1927 and 1934.
In addition to Wiley Post, two female aviators, Amelia Earhart and Ruth Nichols flew the planes.
Post first achieved national prominence in 1930,when he won the National Air Race Derby, from Los Angeles to Chicago. The side of the Winnie Mae's fuselage was inscribed: "Los Angeles to Chicago 9 hrs. 9 min. 4 sec. Aug. 27, 1930." The Winnie May is on display at the Smithsonian National Air & Space Museum (NASM).
Around the World in Eight Days
In 1931, he flew around the world in the Winnie Mae with his navigator, Harold Gatty. (Gatty was a renowned aviator in his own right. An Australian naval cadet, he had accompanied Roscoe Turner on a trans-continental flight in 1929. In 1930, he flew with Harold Bromley on an unsuccessful Trans-Pacific attempt. He devised the ground-speed and drift indicator which formed the basis of the automatic pilot. During the War, he served on McArthur's staff as Director of Air Transport and wrote the Raft Book-a survival manual for downed Allied aircrews. He founded Fiji Airways, now Air Pacific, in 1951.)

On June 23, 1931, Post and Gatty left Roosevelt Field, New York. They made fourteen stops: first at Harbour Grace, Newfoundland; then Chester, England; Hanover and Berlin, Germany; Moscow, Omsk, Novosibirsk, Irkutsk, Blagoveshchensk and Khabarovsk, all in the Soviet Union; Nome, Alaska; and Edmonton, Canada. They then flew to Cleveland, and back to New York on July 1, having travelled 15,474 miles.

Here's their partial itinerary, copied from the program of the July 7 Hotel Astor Banquet.

LOG OF THE "WINNIE MAE"
(New York Daylight Savings Time)

TUESDAY, JUNE 23
4:56 A.M. - Took off from Roosevelt Field, N.Y.
11:48 A.M. - Landed at Harbour Grace, N.F.
3:28 P.M. - Took off from Harbour Grace

WEDNESDAY, JUNE 24
7:45 A.M. - Landed at Sealand Airdrome, near Chester, England
9:05 A.M. - Took off from Sealand Airdrome
12:45 P.M. - Landed at Hanover, Germany
1:50 P.M. - Took off from Hanover (Returned immediately for fuel.)
2:15 P.M. - Again took off from Hanover
3:30 P.M. - Landed at Tempelhof Airdrome, Berlin

THURSDAY, JUNE 25
2:38 A.M. - Took off from Berlin
11:30 A.M. - Landed at October Airport, Moscow
11:00 P.M. - Took off from Moscow

FRIDAY, JUNE 26
7:05 A.M. - Passed over Omsk, Siberia
9:32 A.M. - Landed at Novo-Sibirsk
6:45 P.M. - Took off from Novo-Sibirsk

SATURDAY, JUNE 27
A.M. - Landed at Irkutsk, Siberia

JUNE 28 - JULY 1
- Blagovyeschensk, Siberia
- Khabarovsk, Siberia
- Solomon, near Nome, Alaska
- Fairbanks, Alaska
- Edmonton, Canada
- Cleveland, Ohio
- Landed at Roosevelt Field, N.Y.

The flight proceeded smoothly, across the Atlantic and Europe. But two inches of water covered the airfield at Blagovyeschensk (Siberia) and the Winnie Mae bogged down in the mud. After wasting fourteen hours grappling with the plane, Post and Gatty were finally rescued by a detachment of American soldiers with a tractor. Dirty, but not damaged, the Winnie Mae once again soared through the sky. In Khabarovsk, USSR, the plane was grounded for several hours while mechanics inspected the engine. Luckily, the Winnie Mae was in perfect running order, and the around-the-world flight continued. After a 17-hour leg, they landed in Alaska.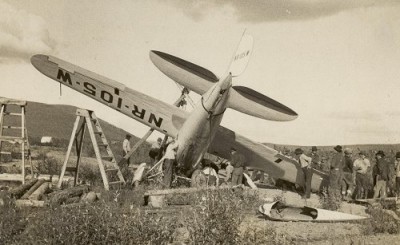 Natives of Flat, Alaska, helping right Wiley Post's plane, the Winnie Mae, after Post had nosed over in a cross wind July 20 after being in the air 22 hours and 32 minutes on his flight from Khabarovsk, Siberia. The only damage was a broken propeller, and a new one was brought to Flat by Joe Crosson, pioneer Alaska flier. The new propeller installed, Post continued his flight to Fairbanks.

Their most serious setback occurred on June 30, in Solomon, Alaska, where they bent the Winnie Mae's propeller. In his book, Around the World in Eight Days, Post described the takeoff from Solomon:
With 100 gallons of fuel aboard, we started to take off. Taxiing back along the beach, the ship started to sink into the sand. With a quick thrust I banged the throttle open to pull her through it before we were stuck. But all I succeeded in doing was to boost the tail up into the air. With a loud slap the propeller cut a hole in the sand and bent both tips on the blades. I cut the emergency switch just in time to keep 'Winnie Mae' from making an exhibition of herself by standing on her nose. That would have been fatal to our hopes.

I jumped out and surveyed the damage. With a wrench, a broken-handled hammer, and a round stone, I drew out the tips of the blades so they would at least fan the air in the right direction.

But misfortunes never come singly. Harold was swinging the prop for a prime with the switch cut to restart the hot engine. He called 'all clear' to me, and I switched on and whirled the booster. One of the hot charges of gasoline caught on the upstroke of the piston, and with a back fire the Wasp kicked. The propeller flew out of Harold's hands, and the blade opposite smacked his shoulder before he could jump clear of the track. He dropped like a log. It was fortunate, to say the least, that it was the flat side of the blade which hit him, though it gave him a bad bruise and a wrenched back. If the prop had been going the other way, he might have been sliced in two.

Like a major, Harold climbed in as soon as he had recovered his senses, and we took off for Fairbanks. I was cautious as I had ever been on that run along the shifting sands of Solomon beach. Luck was with me, and we got away without misfortune No. 3. I hope we didn't leave it behind for the next bird who lands there!
The damaged prop was replaced in Fairbanks with a spare obtained from Alaska Airways. They climbed over the 10,000 foot Rockies, to Edmonton, where they landed at Blatchford Field, another water-logged strip. While they had touched down there, they couldn't possibly take off from it. The locals helped them haul the plane over to Portage (now Kingsway) Avenue, which served well enough for the Winnie Mae to get airborne.
They landed at New York's Roosevelt Field on July 1. They were welcomed across the country, including lunch at the White House on July 6. The next day, a ticker tape parade in New York City and a banquet given by the Aeronautical Chamber of Commerce of America at the Hotel Astor. Speakers included Post, Gatty, Mayor Jimmy Walker, and Assistant Secretary of Commerce Clarence Young.
After the flight, he acquired the Winnie Mae himself. Sources differ as to whether he had a falling-out with F.C. Hall, and bought the plane, or "Hall's admiration for his pilot manifested itself in the gift of the Winnie Mae." - as noted on the NASM web site.
Post and Gatty published a ghost-written account of their journey, titling it Around the World in Eight Days, a play on the title of Jules Verne's Around the World in Eighty Days. Will Rogers contributed an introduction.
Solo
He spent the next year improving his airplane, installing an auto-pilot made by the Sperry Gyroscope Company and a radio direction-finder which homed in on target radio stations.
In 1933, he repeated his round-the-world flight, but this time did it solo, with the aid of the auto-pilot and radio compass. He took off from New York's Floyd Bennett Field on July 15, bound, non-stop, for Berlin. Despite bad weather over the Atlantic, he made it in 26 hours, setting a record for a New York-to-Berlin flight. After a couple false starts, he departed Germany, only to be forced down in Moscow by trouble with his auto-pilot. While more repairs were needed in Novosibirsk and Irkutsk, he reached Khabarovsk ten hours ahead of his previous record.
En route to Alaska, his radio direction-finder malfunctioned, and he got lost. Worried about the 20,000 foot mountains in his way, he touched down at a 700-foot landing strip in a small mining town. He smashed his prop and right landing gear in the process. After repairs, he continued on to Edmonton (July 22), and then flew over 2000 miles non-stop to New York. 50,000 people people greeted him when he landed back at Floyd Bennett Field at 11:50 PM, July 22, 1933. Only making eleven stops, despite some major mishaps, he had knocked 21 hours off his previous record, completing the solo flight in seven days, nineteen hours.
Into the Stratosphere

Wiley Post's pressure suit allowed him to cruise for long distances at high altitude in the jet stream, and was a precursor to modern pressure and space suits
Always fascinated by the scientific challenges of flight, in 1934 he focused on high-altitude, long distance flight, - funded by Frank Phillips of the Phillips Petroleum Company.
Since the Winnie Mae's cabin could not be pressurized, he developed, with B.F. Goodrich Company, an early pressure suit. The suit was constructed of double-ply rubberised parachute cloth glued to a frame with pigskin gloves, rubber boots and an aluminium & plastic diver's helmet. It had arm and leg joints that permitted easy operation of the flight controls and also enabled walking to and from the aircraft. The helmet had a removable faceplate that Post could seal when he reached a height of 17,000 feet, a liquid oxygen source breathing system, and could accommodate earphones and a throat microphone. The liquid oxygen was contained in double-walled vacuum bottles, and as the super-cold gas boiled off, it could be used for breathing and suit pressurization. In his first flight using the pressure suit, Sept. 5, 1934, above Chicago, he reached 40,000 feet. In the super-charger equipped Winnie May, Post set unofficial altitude records (as high as 50,000 ft), discovering the jet stream in the process.
In March 1935, Post flew from Burbank CA to Cleveland OH in the stratosphere using the jet stream. He took his famous five year-old single-engine Lockheed Vega 2,035 miles in 7 hours and 19 minutes with an average ground speed of 279 mph in a 179 MPH aircraft. At times, his ground speed exceeded 340 MPH. He attempted four transcontinental stratospheric flights, all ending in mechanical failure, before retiring his beloved aircraft. Post's pioneering accomplishments were the first major practical advance in pressurized flight.
His Last Flight

This is the Lockheed-Orion Model 9E Special, NC122823, formerly owned by TWA, that was modified by Wiley Post for his trip to Alaska. Among other modifications, Post replaced the engine with a 550 horsepower type, installed a three-bladed variable pitch propeller, swapped out the wing with one that was six feet longer from a Lockheed-Explorer Model 7 Special, NR101W, that had fixed landing gear, and then replaced the landing gear with floats
In 1935, Post became interested in surveying a mail-and-passenger air route from the West Coast to Russia. Funded by the airlines, he began to assemble a hybrid plane built from two wrecks. The low-wing monoplane consisted of a Lockheed Orion fuselage and long wings from a Lockheed Explorer. He installed a 550 HP Wasp engine, and oversize 260 gallon gas tanks. He planned to add pontoons, to land in Alaska's and Siberia's many lakes.
His friend Will Rogers visited him frequently at the Lockheed airport in Burbank where the strange beast took shape. Rogers called the red-and-silver plane Aurora Borealis, but others called it "Wiley's Orphan" or "Wiley's Bastard." Post insisted that it didn't have or need a name, just a number. When the pontoons he had ordered did not arrive, he had a set installed that were designed for a much larger plane. Altogether it was a dangerously heavy aircraft, which they loaded down further with hunting and fishing equipment.

Wiley Post and Will Rogers during their fateful trip to Alaska. Post never wore a hat
After a test flight in late July, 1935, Post and Rogers left Seattle in the unique plane in early August. Rogers commented on the huge pontoons, but Post dismissed his concerns. Their itinerary: Seattle - Juneau - Dawson, Yukon - Aklavik, NWT - Fairbanks - Matanuska Valley - Point Barrow. While Post piloted the plane, Rogers banged out his newspaper columns on his typewriter.

The last photo taken on August 15, 1935
On the way to Point Barrow, they became lost in bad weather; they landed in a lagoon a few miles from Point Barrow to ask directions. The engine quit when they tried to take off again, and the nose-heavy plane plunged into the lagoon, tearing off the right wing, and killing both men instantly.
An Inuit named Clare Okpeah saw the plane wreck and ran the fifteen miles to Barrow to report it. When he described the two men to Army Sergeant Stanley Morgan, Morgan knew that it must be the two famous travellers. He radioed the War Department, and led a recovery party to the site. The remains of both men began the final journey back to Oklahoma.

The wreckage of Will Rogers' and Wiley Post's Lockheed Orion-Explorer, after it crashed at Point Barrow, Alaska in fog due to engine failure. Both men were killed instantly
Shortly after Post's death his widow sold the famed Winnie Mae to the Smithsonian.
The Will Rogers and Wiley Post Monument, across from the state-owned Wiley Post-Will Rogers Memorial Airport, was dedicated in 1982 to commemorate the 1935 plane crash that killed the humorist and the famous pilot. Two monuments now on the National Register of Historic Places are located at the crash site. Both Will Rogers and Wiley Post are also commemorated in a tower above the Broadmoor hotel complex in Colorado Springs. Well worth a visit.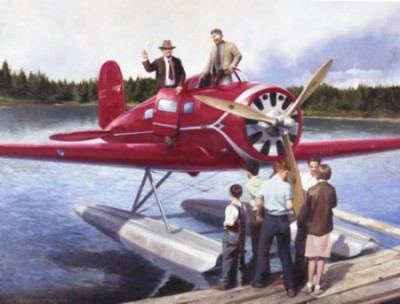 last farewell
Will Rogers

Will Rogers
Cowboy Humorist
Radio Commentator
Newspaper Columnist & Author
Movie Star
Philanthropist
In the 1920's and 30's, Will Rogers, an Oklahoman and part Cherokee Indian, was an American icon. That era was so different from now, that it's difficult to describe his popularity. We have our celebrities today, but are any of them "beloved"? Will Rogers was.
A few of his most famous quotes:
"I only know what I read in the papers."

"I never met a man I didn't like."

"Everybody is ignorant, only on different subjects."
Check out the Will Rogers web site.