Pulitzer Trophy Air Races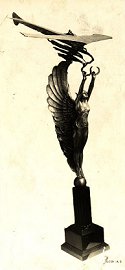 The forerunner of the National Air Races at Cleveland was the Pulitzer Trophy Race established by newspaper publisher Ralph Pulitzer. The first race was held at Mitchell Field, Garden City, Long Island, New York, for four laps of a 29-mile course. Thirty-eight pilots entered and took off individually. Most pilots flew American-built Army deH.4 World War I single-engined bombers, along with Navy Vought VE-7's and SE5A's. Only a few pilots were civilians. At the time of the first race, America's planes were getting a top speed of 180 mph while the French, who had become heavily involved with military aviation after World War I, built planes reaching speeds close to 200 mph. However, the Pulitzer series of races brought the winning average speed up from 156 mph in 1920 to 248 mph in 1925.
These Pulitzer races produced several other beneficial technological developments, but also perpetuated the mistaken belief that the biplane configuration had more potential for high speed than the monoplane. This belief may have put America as much as 5 years behind Europe in the development of the monoplane.
The Second Pulitzer Trophy Race
Omaha, Nebraska, was the site for this unusually late November 3-5 race, with a much smaller field that lacked the stock de Havilland deH.4s and other standard military types. The race would be for 5 laps of the 30.7-mile course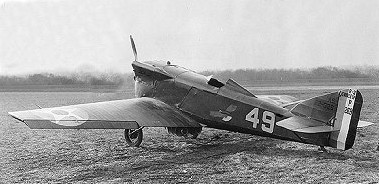 Verville-Sperry R-3
The Third Pulitzer Trophy Race
The most impressive line-up in the history of American military air racing greeted the crowd at Selfridge Field, Mt. Clemens, Michigan, on October 14. Among the 15 starters were a dozen military racers: one Verville R-1, three Verville-Sperry R-3's, two Loening R-4's, two Thomas-Morse R-5's, two Curtiss R-6's and two Curtiss CR-2's.
The Fourth Pulitzer Trophy Race
This one was run out of Lambert Field, St. Louis, Missouri, on October 6. It was for 4 laps of a 50-km./31.1-mile course. All seven starting pilots flew military racers, and all six who finished broke the old Pulitzer Race record.
The Fifth Pulitzer Trophy Race
The air races at Wilbur Wright Field, outside Dayton, Ohio, were highlighted by the Pulitzer. Run for 4 laps of a 50-km./31-mile course on October 4, it drew a much reduced field from the previous year. Three of the four starters flew military racers: two Curtiss R-6/s and one Verville-Sperry R-3, along with an Army Curtiss PW-8A.
The Sixth Pulitzer Trophy Race
As part of what later became known as the National Air Races (October 8-13 at Mitchell Field, Long Island, New York), the sixth and last Pulitzer Race was conducted on October 12. It was flown for 4 laps of a 50-km./31-mile course.
Pulitzer results

1920 - November 27, Mitchel Field, Long Island NY.


The winner was Capt. Corliss Moseley, flying a Verville-Packard VCP-R racer, a cleaned-up version of the Army's VCP-1 pursuit, at 156.54 mph. In second was Harold Hartney in a standard Thomas-Morse MB-3 pursuit at 148.19 mph. Over half the 24 finishers flew deH.4's.
1921 - November 5, Omaha NB.


The winner, by almost two minutes, was Bert Acosta, flying the first of what would become an historic line of Curtiss military racers, the CR-1. He averaged 176.75 mph. Clarence Coombs was second at 170.34 mph in the private Cox Cactus Kitten. In third was Army Capt. John Macready at 160.72 mph in a Thomas Morse MB-6.
1922 - October 14, Detroit MI.


The race, for five laps of a 50-km./31-mile course, was won by 1st Lt. Russell Maughan, in an R-6, who averaged 205.856 mph and broke every closed-course record up to 200 km. In second was 1st Lt. Lester Maitland, in an identical airplane, at 198.850 mph, while in third was Lt. Harold Brow in a CR-2 at 193.695 mph, and in fourth was Lt. Jg Al Williams, in a CR-2 at 187.996 mph. This race established Curtiss' reputation as a designer/builder of advanced airplanes.
1923 - October 6, St Louis MO.


The winner was Al Williams, at 243.673 mph in a Curtiss R2C-1, followed by Harold Brow in another R2C-2 at 241.779 mph. The race for third place was the most exciting, Sandy Sanderson edging Steven Calloway—both in Wright F2W-1's—by ½ second: 230.067 mph to 230.002 mph.
1924 - Dayton OH.


The winner, in the R-3, was Harry Mills, covering the course in 34:25.93 to average 216.55 mph. Wendell Brookley was second in an R-6, at 214.41 mph, only 21 seconds behind.
1925 - Mitchel Field, Long Island NY.


The winner of the 4 laps, at a Pulitzer record 248.975 mph, was Cyrus Bettis in a Curtiss R3C-1. Not far behind him was Al Williams, in an identical racer, at 241.695 mph.
| | |
| --- | --- |
| | Curtiss R6 - Won the 1922 Pulitzer with an average speed of 205.8 mph. |
| | Laird Super Solution - Piloted by Jimmy Doolittle, won the 1932 Bendix Trophy. |
| | Verville-Packard - Won the 1920 Pulitzer with an average speed of 156.5. |