Aero GP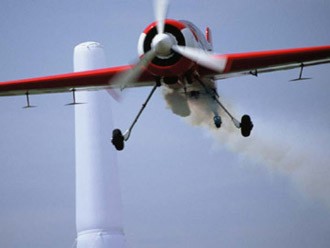 Another new air racing initiative called the Aero GP has just begun. Here at least the aircraft race together on a figure of eight racecourse, (sounds very scary) but the organisers still feel it necessary for the competitors to perform 'tricks' such as flour bombing at the same time. It remains to be seen whether two new series will remain viable. We include a copy of the press release for your interest.
PRESS RELEASE
- WORLD PREMIER BROADCAST OF NEW AIR RACE SERIES -

Including competitive target bombing and air combat heats!

Immediate Release - 12 October 2005
The world premier TV broadcast of the new Aero GP series, which Reuters referred to as "aviation's equivalent to Formula One," is being broadcast on Sky Sports at 6:00 PM on 25th October (see below for more times). The Aero GP is the newest and most exciting motor sport in the world, with airplanes racing faster than a Formula One car – all together at the same time in a tight figure-8 circuit – just a few metres off the ground. The pilots also compete in real target bombing and air to air combat heats – all competitive and all broadcast on worldwide television.

The TV programme is presented by famous lead singer of legendary rock band Iron Maiden, Bruce Dickinson, who is also an experienced pilot. Further commentary is provided by Martin Haven, a popular motor sports commentator. Among the top pilots competing this year are two Brits.

This first event that Sky is broadcasting covers the Slovenia Grand Prix, where the inaugural Aero GP competition was held this year with great success and a huge amount of global media coverage. The broadcast of this Slovenia Grand Prix is available in more than 40 countries; and next year's series will be available in almost all countries in the world.

The first full annual international Aero GP series is set to launch in 2006 stopping at seven exciting venues around the world (to be announced soon). More info is available at: www.aero–gp.com.

SKY SPORTS – AERO GP BROADCAST TIMES:

25 October - Tuesday 18:00 and 24:00 (Sky Sports 2)
26 October - Wednesday 09:30 and 15:00 (Sky Sports 2)
29 October - Saturday 05:30 (Sky Sports Extra)
30 October - Sunday 16:00 (Sky Sports 3)

These are select times. The Aero GP will be broadcast across all Sky Sports channels at other times too; and is being broadcast on many different TV channels around the world.