Curtiss Robin
The

aircraft

was designed along the lines of the strut-braced monoplane formula popularised by Lindbergh's Spirit of St. Louis. The aircraft was ruggedly built with a view toward operation from poorly prepared airfields or pastures. The enclosed cabin provided seating for a pilot in the front and two passengers in the rear seat. The aircraft was usually equipped with either a Curtiss Challenger six-cylinder radial engine or a Wright J6-5 five-cylinder radial engine.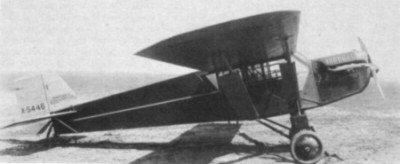 T

he Challenger-powered Robin, had 185 horsepower and was capable of a maximum speed of 115 miles per hour. The aircraft was fitted with wheel brakes and a steer

-

able tail wheel or skid. The drag coefficient of the Robin was a very high 0.0585, which probably resulted from the very large cylinders of the exposed radial engine, the many sharp corners of the forward-facing windshield, and the relatively unfaired junctures between the multitude of struts supporting the wings and landing gear.

cockpit