Comet DH88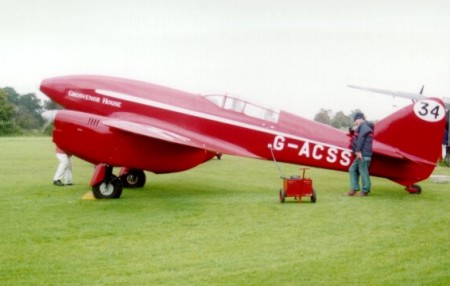 A Golden Age Racer
The DeHavilland D.H.88 Comet, GACSS,was winner of the 1934 England to Australia MacRobertson air-race. Piloted by Charles Scott and Tom Black. The aircraft was named "Grosvenor House" after its sponsor, a luxury hotel in London, financed by millionaire Australian Sir MacPherson Robertson. The 11000 mile race was part of the 100th anniversary of the founding of the Australian State of Victoria. DeHavilland delivered three Comets to the starting line. The comets were two place, all wood twins powered by special D.H. Gipsy Six R engines, capable of producing 230 h.p. each. Total fuel capacity was 213 Imperial gallons, with an economy cruise of 223 mph at 10,000 feet, they had a potential range of 2,850 miles. Top speed was 235 mph at 10,000 ft. The Comet was the first British airplane with retractable gear, flaps and controllable propellers.

The MacRobertson Trophy, won by the Comet in 1934

The Replica Comet pictured above, belongs to Tom Walthen who commissioned Bill Turner to build it. The aircraft was completed in under two years and was first flown by Bill in November of 1993 and has appeared at the EAA Fly-in at Oshkosh numerous times since. This Comet is powered by two Gipsy Queens. The original G-ACSS, has been restored and survives in England, and is a priceless, flyable artefact of Aviation's Golden Age.
| | |
| --- | --- |
| October 20-23, 1934 | C.W.A. Scott and T.Campwell Black went from Mildenhall, England to Melbourne, Australia (11000 miles) in 70 hrs 55 min. |
| November 14-16, 1937 | A.E. Clouston and Mrs Kirby-Green went from London to Cape Town (7091 miles) in 45 hrs 6 min. |
| November 18-20, 1937 | The return trip was completed in 57 hrs 23 min. |
| March 15-20, 1938 | A.E. Clouston and V. Ricketts went from London to New Zealand (13179 miles) in 104 hrs 20 min. |
| March 20-26, 1938 | The return trip was completed in 140 hrs 12 min. Here the times to and from Sydney, Australia en route to New Zealand were also confirmed as records. |