Howard DGA-3 Pete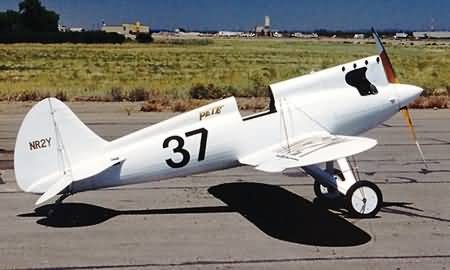 In 1929, Benjamin "Benny" Howard built, Pete, one of the first purpose-built air race planes. Howard created the plane specifically for air racing and especially for the events at the National Air Races. Scarcely seventeen feet long with a 20 feet wingspan, Howard's third plane, Pete, was designated DGA-3, with DGA standing for "Damned Good Airplane." Pete's first test was at the 1930 National Air Races in Chicago. Winning five of the first seven races, Pete became one of the most successful racers in any form of motorsport. In the men's "Free for All," contested by seven planes with larger, more powerful engines, Pete finished an impressive third place, despite a huge horsepower disadvantage.
Howard entered the little plane in the 1931 Cleveland race, but obsolescence was already setting in; Pete could only eke out a sixth place finish. The money he won with Pete allowed Howard to build Ike and Mike, two larger racing aircraft. Pete flew in the 1932 races along with Howard's two new planes, but Pete's his winning days were over, and Pete was sold. Profits from this sale, along with the winnings from Mike and Ike, were used to fund the building of Howard's highly successful Mr. Mulligan racer (DGA-6).
Pete went through several owners until after World War II, when an optimistic soul bought Pete and entered him in the new Goodyear Trophy Race for midget planes in 1946. The rules mandated an enclosed cockpit and a Continental engine similar to those used in the ubiquitous Piper Cub. The end result was uncompetitive, not surprisingly, given the 20-year-old airframe. Pete was sold several more times and was extensively modified and rebuilt several times. Pete was finally acquired by an aircraft restorer in California who remembered the "original" Pete, and restored the plane back to its original appearance and function.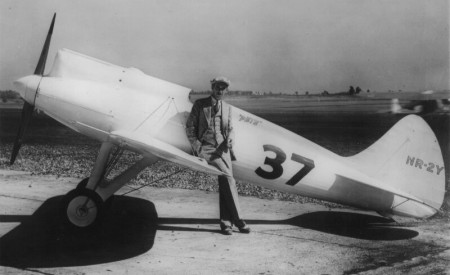 DGA-3 "Pete" and Benny Howard
Wingspan: 20 ft 1 in
Length: 17 ft 9 in

Wing Area: 67 sq ft
Airfoil: NACA M-6

Powerplant: Wright 4-cyl Gypsy
326 cubic inches
85 hp @ 1900 rpm
90 hp @ 2500 rpm
95 hp @ 2600 rpm

Empty Weight: 635 lb
Gross Weight: 900 lb

Maximum Speed: 163.5 mph
Cruising Speed: 150 mph
Landing Speed: 60 mph

Cruising Range: 250 miles