P51 Mustang

The P-51 Mustang evolved from a British contract in 1940 for a fighter airplane that could go faster than any other current American fighter. Designated the NA-73X project, the Mustang was designed in just 117 days. The first Mustangs were delivered to Britain in November, 1941. Initially equipped with an Allison engine, the performance of the Mustang was found inadequate. A few Mustangs that were being used for engine experiments were provided with the Rolls-Royce Merlin engine and the increase in performance caused North American to redesign the airplane. The Merlin equipped Mustangs were to become the best fighter of the Second World War, serving both in Europe and the Pacific.

With emergence of jet fighters at the end of World War II, the Mustang, as well as every other piston engine fighter, were rapidly becoming obsolete as warplanes. As a result, thousands of Mustangs were scrapped or sold for a fraction of what they were worth. Air race pilots took advantage of this, and quickly bought P-51's and modified them to compete in the closed course Thompson Trophy Race.

A

P-51K Mustang was flown by Robert Swanson in the 1946 Thomson Trophy Race. Swanson's first Mustang for the 1946 National Air Races was damaged when it crash landed during a Thompson Trophy qualifying lap. With only several days before the race, Swanson found another Mustang and named it "Second Fiddle". Although "Second Fiddle" only took a fifth place in the Thompson Trophy Race, it did turn in the fastest single lap speed of 378.4 miles per hour.
Type:

P-51K single-seat land based fighter

Powerplant:

One 1,680 hp Packard Merlin V-1650-7 piston engine

Performance:

Maximum speed 442 mph at 24,500 feet;
climb 10 minutes to 20,000 feet;
range (normal) 950 miles

Weights:

7,000 lb.; 9,200 lb. gross

Dimensions:

Span 37 ft.; length 32 ft. 3 in.; height 8 ft. 8 in.
Mustangs, some highly modified are still the mainstay of the unlimited class at the Reno races.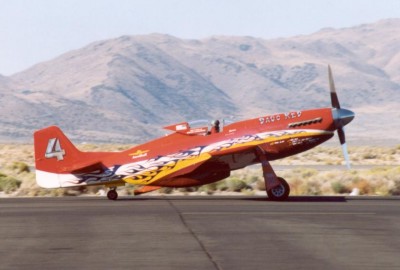 Dago Red...the most successful P51 modern racer